Featured Services
A permit is required for commercial filming or related activities in DC public space. No permit is...
We support media production and creative economy infrastructure projects through a rebate fund.
Resources to assist with finding DC Government property, hotels, and other resources for film and...
Latest
Local company seeking a highly motivated individual interested in managing boutique liveshot...
Featured Video - OCTFME Salutes DC Filmmakers
Office of Cable Television, Film, Music and Entertainment (OCTFME)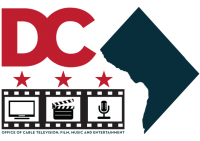 Office Hours
Monday to Friday, 9 am to 5:30 pm
Connect With Us
Headquarters
1899 9th Street NE , Washington, DC 20018
Phone: (202) 727-6608
Fax: (202) 727-3246
TTY: (202) 727-6608
Email:
[email protected]



Agency Performance