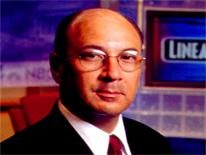 Mr. Eduardo López is a co-founder of the nonprofit organization, EVS Communications, and the Producer of Línea Directa, one of the nation's longest-running Spanish-language television programs dedicated to Latino public education. Since 1990, the weekly series has provided thousands of immigrant families living in the Washington metropolitan area with information on their rights, as well as on important health, legal and social service issues. The program is currently produced in the studios of NBC4, and is broadcast each Sunday morning by Telemundo Washington.

In recognition of his groundbreaking work in public education, Mr. López was named a winner of the Ford Foundation's 2002 Leadership for a Changing World Award. Nearly 1,500 organizations were originally nominated for the honor, which was given to only twenty leadership groups from across the country for demonstrating outstanding creativity, effectiveness, and community impact in their work. Mr. López and EVS were nominated by the National Association of Hispanic Journalists.

For the past four years, Mr. López and EVS President, Wendy Thompson-Marquez, have been dedicated to the production of Harvest of Empire, a feature-length documentary focusing on the direct connection between our country's long history of intervention in Latin America and the immigration crisis we face today. Based on the landmark book written by award-winning journalist Juan González, the film uncovers the often shocking role that US economic and military interests played in triggering waves of immigration that have fueled the growth of our nation's largest minority population.

As Mr. González says at the beginning of the film "They never teach us in school that the huge Latino presence here is a direct result of our own government's actions in Mexico, the Caribbean and Central America over many decades -- actions that forced millions from that region to leave their homeland and journey north."

Mr. López received degrees in management and communications from Syracuse University in 1979. He emigrated from El Salvador with his mother, and has lived in the United States since 1967.
Visit our Previously Featured Filmmakers to see more Filmmakers of the Month.