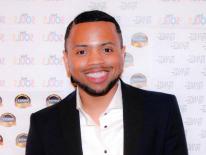 Our Filmmaker of the Month for February 2016 is Carlos J. Harris.
Carlos J. Harris is the head writer and producer of the award-winning LGBTQ web series, Triangle. The Triangle web series, which is produced in collaboration with Harris' producing partner Ceasar Williams, is the blend of deception, corruption, love and betrayal which Harris says brings back the grandeur and richness of esteemed 80s soap opera series such as Dynasty and Falcon Crest.
Triangle has gained a huge following within the short time since episode one debuted in October 2014 and received 61,000 views. The Triangle YouTube channel now has over 15,000 subscribers and almost two million views. The risqué promotional picture featuring its three main characters in bed got the attention of popular blogs SandraRose.com and ATLien.com, and tweets from popular radio personality Angela Yee and Bravo's Andy Cohen.
The show ranked #37 in the 2015 Black LGBTQ Power 100 and was recently recognized with the Rock Star Award from the Black Gifted & Whole Organization. Soon, the show will debut on OutTv Netherlands, which broadcasts in Europe and Canada in over 25 different languages.
The success of Triangle led to creation the streaming network www.BRTBtv.com that features season 2 and various LGBTQ content such as ballroom culture and more original content.
Harris' new anthology series Paper Trail will go into production in Washington, DC in spring 2016.
Harris attended Duke Ellington School of the Arts for Literary Media and attended American University where he studied public communication.