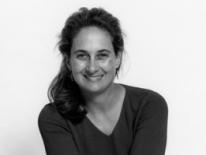 Grace Guggenheim has been a producer and executive producer of historical documentaries with Guggenheim Productions, Inc.® for over twenty-five years.
Grace has produced over fifteen documentaries for both television and theatrical release. Many of these films have been finished in 35mm for permanent exhibition at museums and presidential libraries around the country. They involved intensive archival research and licensing with private and public resources in the United States and abroad.
She served as Producer of the documentary Berga: Soldiers of Another War. This co-production with WNET/Thirteen New York debuted in a national broadcast on PBS. The film was shortlisted with the Academy Awards® nominations and then went on to win the IDA Pare Lorenz Award. It tells the unknown story of a group of 350 American soldiers captured during the Battle of the Bulge who, because they were Jewish or classified as "undesirables," were sent to a slave labor camp in eastern Germany. In May of 2005, the companion book, SOLDIERS AND SLAVES, written by International Herald Tribune and New York Times columnist Roger Cohen, and was published by Knopf.
Her credits include: Producer of Harry S. Truman: 1884 -1972, a film biography of President Truman; Executive Producer of the Academy Award®-nominated A Place in the Land, for The Woodstock Foundation in Woodstock, Vermont; Executive Producer of the Academy Award®-nominated D-Day Remembered, for the National D-Day Museum in New Orleans, Louisiana and the "American Experience" series on PBS; and Senior Producer of both the theatrically released 1989 Academy Award® -winning film, The Johnstown Flood, and the 1992 expanded version which was televised on the "American Experience." Other credits include Clear Pictures, a biography of the novelist Reynolds Price; LBJ: A Remembrance, the story of Lyndon Johnson; and A Life: The Story of Lady Bird Johnson, a biography of the former First Lady.
Grace is President of Guggenheim Productions, Inc. ®, overseeing and managing the preservation of her late father's fifty year legacy, located at The Academy of Motion Picture Arts and Sciences/Academy Film Archive in Los Angeles and The Missouri History Museum in St. Louis, Missouri. She created Grace Guggenheim Productions LLC, which is preserving and distributing the Charles Guggenheim DVD Collection Series. Her current 2K digital restoration project is, Monument to the Dream the 1967 Academy Award® Nominee, which captures the struggle and heroism of the men who built the St. Louis Arch, an engineering triumph of America's Gateway Jefferson National Expansion Memorial.
She recently co-produced The Man Nobody Knew, a feature length documentary about the late William Colby, seminal American Spymaster and former head of the CIA. This revealing portrait is told by his son Carl Colby, who directed and produced this film. The film launched on September 23, 2011 at Lincoln Plaza in New York City. It received a New York Times Critic Pick and subsequently has had a national rollout in twenty-fives cities throughout the United States.
Grace is a part-time Professor with the University of California DC campus arts elective program. She has been a guest lecturer at Stanford Law School, Scripps and Goucher College, and has participated in U.S. Department of State feature film cultural programs in South Africa and in Egypt. She advises the programming committee for The Charles Guggenheim Center for Documentary Film located at the National Archives in Washington, DC now in its ninth year of screening all Academy Award®-nominated documentaries. She is a member of the Advisory Committee for the Environmental Film Festival in the nation's capital.
As a board member of Woodley House, a Washington, D.C. residential facility that provides housing and counseling to citizens who struggle with mental illness and drug addiction, Grace received the 2007 Donald Brown Rose Award. She also is a current trustee for the Junior Tennis Champions Center located in College Park, Maryland.
Prior to her work at Guggenheim Productions, Inc.®, Grace worked as a graphic designer and an architectural photographer at the Boston firm Payette Associates.
She graduated from Carleton College and currently lives in Washington, DC.
Grace's professional affiliations have included Women in Film and Video and The American Institute of Architects. She also was a recipient of the WIFV 2010 Women of Vision Award.
Visit our Filmmaker of the Month Section to see previous Filmmakers of the Month.