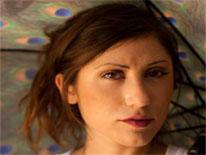 Otessa Ghadar is the creator and director of web series Orange Juice in Bishop's Garden, which follows the lives of DC teens growing up and getting down in the 1990's. Ghadar completed her Graduate Film studies, at Columbia University's Film school in NYC. Orange Juice in Bishop's Garden started as her MFA Thesis, and grew from there. Otessa now creates the show with the assistance of her mother and Production Designer, Lis de Tuerk Ghadar. Otessa is also the founder of 20/20 Productions, which produced the film.
Returning to her DC roots, the series is an example of "writing what you know." It is inspired by memories of Ghadar's own teenage years in DC—part recollection, part urban legend, and part pure fiction. Ghadar continued Orange Juice in Bishop's Garden in 2009 to focus on the other side of our nation's capital: the culture, the fashion and the indie lore. With a female driven production team, and a cast and crew comprised of all local area residents, Orange Juice in Bishops Garden brings fiction filmmaking out of Washington, DC in the form of cutting edge new media, streaming virally online.
Currently filming its fifth season, the series has won a 2011 Telly Award, two 2011 LA Web Series Festival Awards (for Outstanding Drama Series and Outstanding Cinematography in a Drama Series), and received a 2011 Indie Intertube Ensemble Drama Award nomination.
Visit our Previously Featured Filmmakers to see more Filmmakers of the Month.