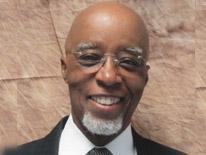 The District of Columbia Office of Cable Television, Film, Music and Entertainment (OCTFME) is pleased to recognize local filmmaker Alonzo Crawford as the August 2016 Filmmaker of the Month.
Crawford is a retired Howard University professor who taught film theory, directing and cinematography at the undergraduate and graduate level. Crawford was an Associate Professor at Howard University's John H. Johnson School of Communications, Department of Radio, Television and Film for over 40 years of teaching and producing films. He is currently Faculty Emeritus at Howard University with an Adjunct appointment for two courses Fall 2016, Masters of Fine Arts (Cinematography).
Crawford has written, produced or directed several notable films, including the critically acclaimed 1977 documentary, CROWDED, a film that documents the harsh conditions at the Baltimore City Jail; the narrative drama, WALK ON WHITE NAILS (1991), a feature-length film that addresses racism through the story of an interracial couple drawn together by superficial social preconceptions.
Crawford is the founder of Vigilant Cinema Productions and Executive Director of the HU/DC Film Works, an annual program where community residents are trained in the art and business of motion picture production. From these workshops, Crawford has produced and mentored the production of several award-winning short films and feature length films.
Alonzo Crawford has contributed to the local Washington, D.C. film community as a filmmaker, teacher, and a student of the arts. He received his Bachelor of the Arts from the University of Cincinnati, School of Design, Art and Architecture, Design and Advertising and his Masters of Fine Arts from Columbia University. The list of illustrious, award-winning industry professionals Crawford has taught and mentored include: Ernest R. Dickerson (Cinematographer, Malcolm X and Director, The Wire & Treme), Bradford Young (Cinematographer, Selma) and Gerard Brown (Screenwriter, Juice).