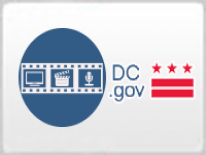 Update (3/21/17) -- Our new location scout interactive map is now live! See link below for more information, and explore DC from the perspective of a location scout, jurisdictional boundaries, our rich neighborhoods, or a seasoned location manager. Our latest tool, the DC Location Scout Map, leverages DC GIS mapping technology assists location scouts and media makers navigate Washington, DC and find potential shoot locations that are under DC control.
No U.S. city or even state has as many landmarks as the nation's capital. Iconic vistas of The White House, US Capitol and the Lincoln Memorial immediately establish your film in DC. Our diverse neighborhoods like Columbia Heights, Logan Circle, Takoma, and Ivy City are just a few of the culturally mixed, bustling locations comprising people places that distinguish DC as the top restaurant city of 2016. Check out this map of city government locales from offices, to abandoned police stations, jail cells, parks and recreation areas (not NPS), and more. Be sure to capture your iconic establishments on the mall, and then explore locales that are - for us natives - true landmarks!
Choose one or more resources below to locate and learn more about DC filming locales, places to stay, and our great neighborhoods!:
Which map should I look at?
The District of Columbia's Office of Cable Television, Film, Music and Entertainment in collaboration with the Deputy Mayor for Planning and Economic Development, the Office of the Chief Technology Officer, and the Department of General Services, is pleased to offer filmmakers this NEW location scouting map tool ­­­– which lets filmmakers quickly locate virtually all DC Government owned or managed building locations -- who knows, you may find that ideal look for your upcomming production. And the best part? DC-owned locations may be secured for little to no charge!
Pan, zoom, search, draw on, markup, pdf and print your own customized map noting locations or info important to you, measure distances and know in advance whether that grip and wardrobe truck will both fit where you want. You can even search by distance from any spot in the city to find alternate locations, hotels, and other popular points of interest while visiting us here in DC.
Should you need help getting started with the map, see attached help topics below. Otherwise get started scouting today using one of these convenient search options:
Search by place name or address;

Pan & Zoom around to see if a location is National Parks or Capitol Police territory simply by zooming in and see how it's tagged or colored;

Swap out Basemaps - basemaps may contain other features of DC like the nearest coffee shops, topography/elevation information, drycleaners, or the nearest Krispy Kreme.

Search by distance: type in an address or place name, and watch the results below show you which of our mapped locations are within 1, 2, 3 miles away;

Browse by category - all city-owned property, large real estate projects, libraries, parks, schools fire stations, hotels, and more.
This map identifies National Capital Parks (NPS) and U.S. Capitol Police territories within the District of Columbia. The data comes directly from the National Park Service and the Architect of the Capitol. If you notice any errors or ommissions, you should contact the appropriate agency within the Department of the Interior or Architect of the Capitol. All large parks, monuments and memorials will be under NPS jurisdiction. All territory within roughly a 4-block radius around the US Capitol is generally US Capitol Police jurisdictions. Filmmakers should use this map to quickly decide which agency they should reach out to form filming permisssion. The map includes phone numbers and web links to the appropriate agency.
A fresh, fun look at fixed and facelifted DC neighborhoods. Developed by Destination DC, DC's relaiable source for tourism, meeting & conferences, and local stays, eats, and events.
DC Reel-Scout Desktop Application
Plain images and text description of locations in DC (some NPS, some private property) that can be used for filming in DC.
iPhone version of DC Reel-Scout