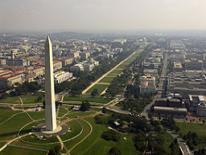 Our latest DC Location Scout Interactive Map is designed to help filmmakers quickly locate DC Government property that could work as a film location. Recently, we've had great luck with several city properties including the old 6th District Police Station -- a recently abandoned police headquarters complete with jail cells booking area, offices, holding areas, roll-call room, gym and locker rooms. This amazing opportunity won't last forever!

This map identifies National Capital Parks territories within the District of Columbia. The data comes directly from the National Park Service. If you notice any errors or omissions, you should contact the appropriate agency within the Department of the Interior. All large parks, monuments and memorials will be under NPS jurisdiction. All territory within roughly a 4-block radius around the US Capitol is generally US Capitol Police jurisdictions. Filmmakers should use this map to quickly decide which agency is authorized to grant filming permission. The map includes phone numbers and web links to the appropriate agency.
Destination DC Neighborhood Map
Get in-depth location information describing DC's rich, one-of-a-kind, bustling Neighborhoods.
Service Contact:
Ray Williams, Locations & Permit Manager
Office Hours:
Monday to Friday 10 am to 2 pm (locations)