Featured Services
We support media production and creative economy infrastructure projects through a rebate fund.
A permit is required for filming or related activities in DC public space.
Use our resources to assist in finding a location in DC.
Film Permits
Film permits are issued by Motion Picture and Television Development and provide permission to occupy public space for filming and related activities. Permits may include location parking for essential production vehicles when available.
Featured Video - OCTFME Salutes DC Filmmakers
Motion Picture and Television Development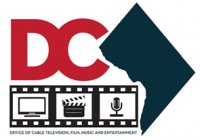 Office Hours
Monday to Friday, 9 am to 5:30 pm
Connect With Us
Brentwood Broadcast Center
1899 9th Street NE , Washington, DC 20018
Phone: (202) 727-6608
Fax: (202) 727-3246
TTY: (202) 727-6608
Email:
film@dc.gov



Agency Performance